On Loan
I'm not sure why God has allowed me to be surrounded by so many women who challenge and encourage me but in His graciousness, He has.  One of those women is Tonya Adams.  Tonya has been a guest for me before.  I'm stunned by her vulnerability and the insight God has allowed her.  You can't help but be inspired and encouraged by her story.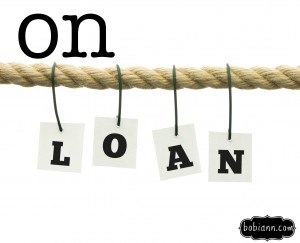 Nine years ago this month, my mom got into a car accident. She was driving home and accidentally ran off the road and flipped her car. I was going to work and the road was closed down as they were placing her into the ambulance. I remember jumping out of my car and yelling "That's my mom up there!"
I met the ambulance at the hospital and they kept my mom for observation through that evening. She was very swollen and in a lot of pain. They wanted to send her home from the hospital the same day. But my German gramma, had another thing to say about that. So they kept her overnight for continued observation. They said she was just sore and had no internal bleeding and no broken bones. They told me to come and get her at 9 am the next morning.
I called her from my 2nd shift job that night and she was pretty drugged up on pain meds. But she slurred out…"I'm ok." and "I love you." The next morning I headed out to the hospital to pick her up. But when I got there the Dr. stopped me from going in her room and told me she had flat lined at about 3 am. He said they had resuscitated her, that they are now breathing for her and that she wouldn't make it the next 24 hours. She didn't.
Nine years ago this month, I lost my mom. It was a shock – it was unexpected – it was out of the blue.
[Tweet "Nine years ago this month, I lost my mom.–@paleomommyx2"]
I have always leaned toward being a fearful person. When I was five, my mom wrote in my Baby Book, "Tonya tends to be a little anxious most of the time!"
WOW!
But this event threw me overboard. It set me up with an unnatural fear of losing the people I love most in my life–especially my husband and children. I carry a burden as if I am in control, as if I have something to do with the length of a person's life. I am not in control, no matter how much I try to be.
In this post, I want to talk about one of the names of God: Adonai. It is used over 400 times in the Bible. It means Master or Owner. The Ruler and Owner of ALL.
Everything we think we have is borrowed. It is all on loan from Him, Adonai. Our clothes, our food, the air we breathe – it's all borrowed. Our loved ones are not owned by us, either. They are loaned to us by the Owner of All.
Corrie Ten Boom once said,
"Hold everything in your hands lightly, otherwise it hurts when God pries your fingers open."
Later in a conversation with Chuck Swindoll she added,
"Hold everything loosely, even your dear family."
When we hold people and things loosely, it doesn't mean that God is simply waiting for our permission to swoop in and take them away! Instead, we are giving Him permission to do so nevertheless. We are acknowledging that we are not in control. We are acknowledging that His plan is best. In fact, The Bible shows us that God desires good things for us (Jer. 29:11-13).
Jeremiah 17:7-8 says..
"But blessed is the one who trusts in the Lord, (ADONAI)
whose confidence is in him.
They will be like a tree planted by the water
that sends out its roots by the stream.
It does not fear when heat comes;
it's leaves are always green.
It has no worries in a year of drought
and never fails to bear fruit."
Blessed are we when we TRUST in the One who is in charge of all. We will stand strong like the tree planted by water. Notice that it doesn't promise that the heat and the drought won't come, in fact it says it will. But we will still be able to stand tall and bear fruit even in the midst.
[Tweet "Blessed are we when we TRUST in the One who is in charge of all.–@paleomommyx2"]
So, what is the only acceptable response to our Adonai? Surrender.
Surrender of our fear and worries. Surrender of our will to His, our ways to His. And ironically, only when we surrender will we find true freedom.