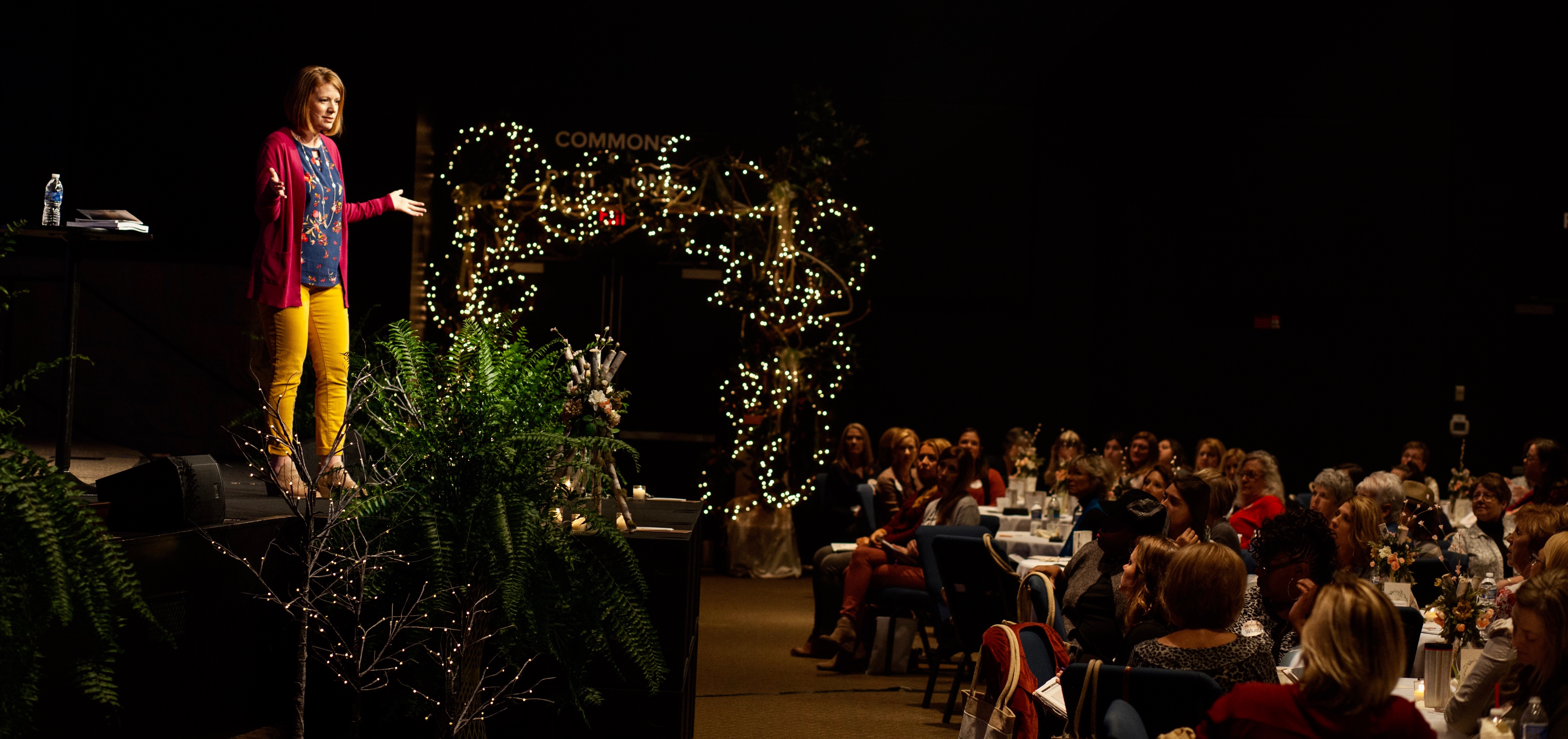 women's speaking topics
WHEN GOD'S GIRL WANTS TO GIVE UP–living a life of faith when it's all falling apart
There are people who seem to have it easy and 'winning at life' appears to come naturally. You'd be winning at life too if you were in their shoes. But you're not, so how do you navigate a life that honors God when circumstances are stacked against you? Bobi Ann explores that Old Testament character, Daniel, to retrieve meaningful life lessons that lead a life of victory even in the midst of life's fiercest trials.
Own It–Knowing and Embracing Who God Created You To Be
Scripture calls you a masterpiece however many of us question our value and purpose Because we haven't taken the time to study the details and intricacies God uses when creating us as his work of art. Bobi Ann walks through a Biblical truths and practical resources that will teach your audience how to embrace and live out the plans and purposes God has planned for each of them.
With Eyes Wide Open–Cause He's at Work and Always Has Been
Between busy schedules, personal demands and persistent pressures, many of us silently wonder where God is and why we aren't experiencing His presence. Working through her own deceptive emotions and persistent anxieties, Bobi Ann has learned to stop sleep walking through her days and is developing eyes to see God's hand at work. Bobi Ann will equip your audience with Biblical evidence and practical application to live lives aware of God's power and presence.
*Please note: With Eyes Wide Open can easily be done in 4 sessions that works great for a retreat setting and include workbook material
Beggars Gonna Beg–When You've Reached the End of Your Rope
What do you do when you're not enough? As a seasoned ministry leader, Bobi Ann found herself at the end of her rope. God had given her an assignment far outside her level of education and experience. Despite her best efforts, Bobi Ann found herself facing burnout and despair until she finally broke down and begged God for help. Through Bobi Ann's compelling personal story and biblical truth, your audience will be left challenged and encouraged to acknowledge their need for God's intervention and met with evidence of God's compassionate reception.
Priorities–Because as Hard as You Try, You Can't Do It All
Running on the treadmill, read my Bible, a night out with the girls, clean the house, feed the dog, volunteer at my child's school, date my husband…so many choices on how to spend my time and all of them good. But I can't do them all…so how do I choose? How do I prioritize my life without losing my mind?In this message, body and explains three important questions to ask when setting priorities by challenging your audience to take intentional steps to not only set priorities but to live them out.
#peacehascome-Exchanging Your Daily Overwhelmed for a Festive Peace
Are you overwhelmed with life? Are you stretched thin by finances, relationships, or a constant pace that leaves you breathless? The holidays are here and the thought of adding one more strain to your overwhelmed life has you dreading Jesus' birth instead of savoring the moments. Your audience will laugh and enjoy a time of authenticity about the reality of an overwhelmed life while intertwining biblical truth and hope into each heart. Bobi Ann not only encourages but equips your audience with a fresh perspective as they face the holiday.
*Please note: this message can be revised to work outside a Christmas theme for any time of the year
Get Unstuck and Live Your Big Purpose
Do you want to grow in a relationship with Jesus, but you just can't seem to do it? You try (and maybe even get a good start) but then WHAM! life happens and you're stuck. If we were honest, we all feel stuck at times. But we don't have to stay there. Bobi Ann shares practical tools to move past STUCK and into a life of freedom, satisfaction and purposeful living. She'll guide your audience through interactive experiences that address real reasons they are stuck, dig into the truth found in Scripture and lead your women to discover the assignments God has chosen for their lives.
*Please note: Get Unstuck can be easily broken up into a 3-5 messages that works well in a retreat setting and include workbook material