Nobody's Cuter Than You–a Book Review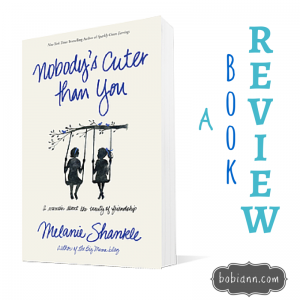 If you follow me on social media, you may have seen me reference Nobody's Cuter Than You.  My posts on social media may have given away my affection for this book and may even cause you to think this blog post redundant.  However, I would be amiss if I didn't give you the detailed version of my opinion of this refreshingly heart-warming book.
I moved from Huntsville, Alabama to Round Rock, Texas the end of May.  A few days before leaving my staff organized a farewell "get-together."  We sat on my sweet friend, Stephanie's back porch and my friends (who seconded as my staff) gave me some gifts and Nobody's Cuter Than You was one of them.  The fact that the book was given by four women who I absolutely adore doesn't hurt my emotional connection with this book.
But you might not have the pre-disposed emotional connotations I did, so here we go:
The Title
What else is there to say?  The title makes you want to wrap your arms around the book.  The title says "Pull up a chair, you're safe here. Your quirkiness is adorable and nobody's cuter than you."  The title delivers on its promise to make you feel safe, warm and all-around glad you picked it up.
[Tweet "The title makes you want to wrap your arms around the book. "]
What's It About
Nobody's Cuter Than You is about friendship.  The author starts the book when she was young girl and her early years of friendship.  She takes the reader on a journey through her developing years and into college where she meets a group of friends who leave a permanent mark on her life.  The stories she shares through the book are relatable, funny and often leave you shaking your head because you can see what's coming even if she didn't at the time.
The Author
I knew who Melanie Shankle was before I was handed this book but I never actually read any of her books before (or embarrassingly even her blog).  I saw her on-stage at dot.mom a few years back and thought it was cool that she was a Texan and an Aggie but didn't give it much thought past that.  Melanie is h-i-larious in Nobody's Cuter Than You!
I have every intention of picking up her other two books after reading this one!
Who's The Book For?
One of the things I like most about this book is that I would feel so comfortable handing this book to just about any of my girlfriends no matter where they are spiritually.  This book traces the author's spiritual journey as it correlates with her relational journey with her friends.  She doesn't condemn a reader who isn't at the same spiritual check-point but invites her to investigate and explore a more intimate relationship with God.  I would even suggest she whets the appetite for the adventure resulting in a friendship with God. Melanie debunks any delusions of boring Christianity as keeps the reader in stitches with her crazy antics.
Texas
As a Texan, particularly one who grew up with all the Texas A&M references, Nobody's Cuter Than You read like a letter from a girlfriend.  It was all so familiar to me.  I particularly loved reading the reference to Buc-ees as I downed a Buc-ees bbq sandwich in the passenger seat of the car.  I did wonder, however, if those who weren't from Texas and didn't have such similar experiences as I had with the author, if they would nod their heads as much as I did.  Melanie does an excellent job explaining the references but I'm not sure you can truly understand without the brainwashing that is Texas culture.
Favorite Quotes
Real friendship requires effort.  It's showing up and laugh aloud and crying hard.  It's forgiving and loving and giving the benefit of the doubt."–page xiv

You always hear people lament that we spend one-third of our lives sleeping, and frankly, I don't see the problem.  Sleep is delightful, and had I known how fleeting a good night's sleep would be once I was in my forties, I might have devoted even more time to it in my twenties.–p.104

A good friend will love you, support you, and cheer you on.  A good friend doesn't make you feel inadequate or like you're not good enough.  A good friend won't dump you when someone better comes along or ask you to compromise who you re and wha you believe.–p. 199

In this new world we've built of Facebook friends and Instagram likes and texting instead of listening to an actual voice, it's still worth going deeper and finding people who will love you for your real, authentic, broken self.  And, most important: to find that person means we have to be that person.–p.199
It's Worth It
Nobody's Cuter Than You is not a deep, theological book.  It is a book that made me feel good.  It inspired me to be the kind of friend I wanted to have.  Nobody's Cuter Than You was worth my time to read.  Pick it up and find yourself giggling as you are reminded of the sweetness that is friendship.