When Coffee Isn't Just Coffee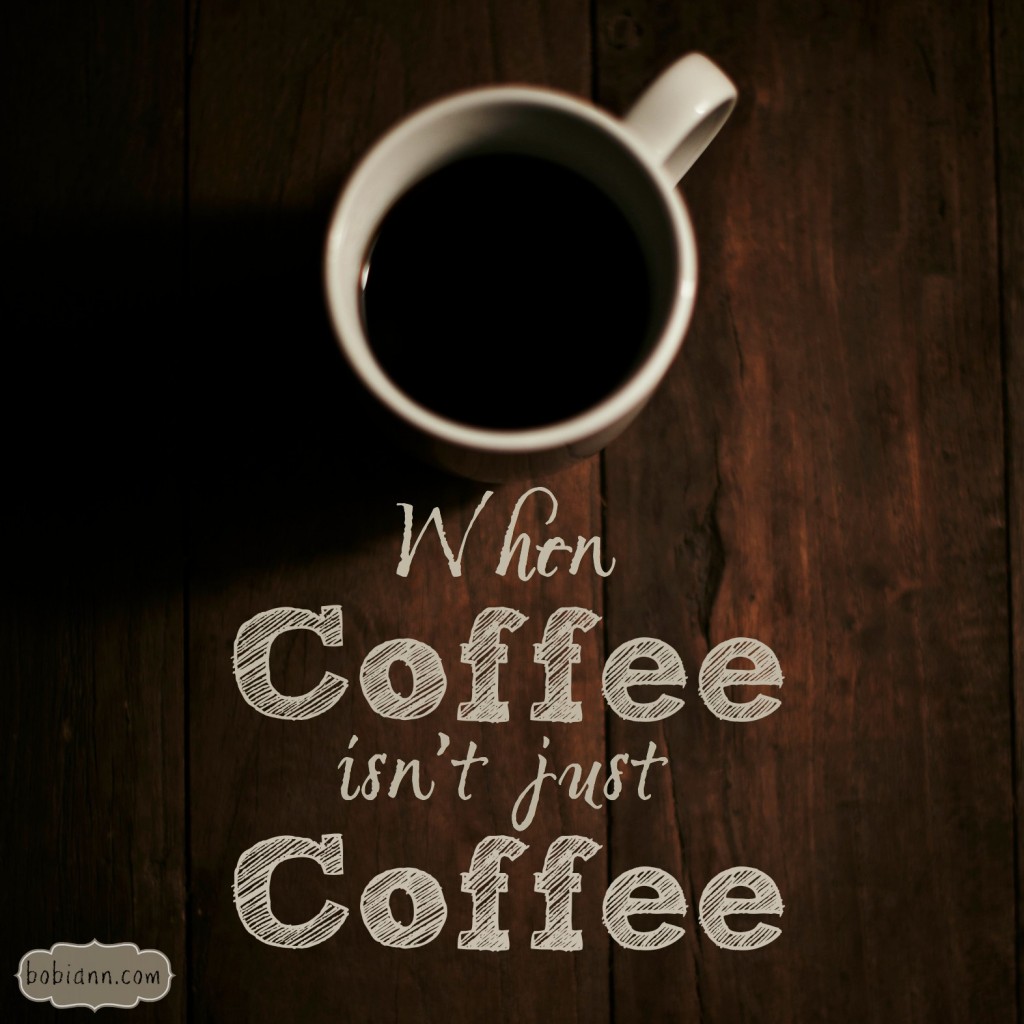 Do you ever think to yourself…"I'm totally growing up!  It's like I'm a real adult now!"?  Maybe you don't think such thoughts, but this is a realization that comes to me pretty often.  I know…mid-30's, married with 2 children seems like a good time to recognize myself as a grown-up.  It isn't that I haven't been a grown-up but specific elements of my life have come about marking my adulthood.  Two of those have come in the last few years.  No, it isn't my kids, but a love for avocados and coffee.
My friend, Lisa Ward, introduced me to a love for avocados a few years back when she taught me to make homemade guacamole.  She put me to work in her kitchen mixing ingredients.  Prior to this moment, I had no love for avocados.  However, in an effort to be polite, I tried my own creation and immediately fell in love.
Coffee came more out of necessity.  As I've mentioned in prior posts, I'm writing a book.  Because of a busy schedule, my only writing time comes early in the morning.  Not being a morning person, I sought some intellectual assistance through coffee.  Over time, I discovered my help in writing came from the Lord and coffee.
Why do I recount this story?  Because these 2 loves have come together for a Kingdom cause and I'm totally on board.  I wanted to share it with you because many of you share my love for coffee and my heart for the Kingdom of God.  So what would be better than turning the love for coffee into something that makes a difference for God's Kingdom?
[Tweet "So what would be better than turning the love for coffee into something that makes a difference for God's Kingdom?"]
Three Avocados Coffee began with a gift of 3 avocados by a poor widow to her pastor in Uganda.   It was literally all she had.  In Uganda, the pastors do not receive any pay. The food they eat is given through the offering as they visit different villages. That widow had given all she had to ensure someone else could eat and inspired Three Avocados founder to begin a non-profit which uses the proceeds from the sale of coffee to bring clean water to those in Uganda without.
Because of the work of Three Avocados, more than 20,000 people have access to clean water.
I find my heart stirred.  Not only do I have clean water but I sit in my comfortable house or the local coffee shop drinking yummy coffee.  Drinking coffee for a Kingdom cause seems like a pretty simple way to make a lasting difference.
So, in this case coffee isn't just coffee. As Christine Caine said,
Coffee is more than a beverage … it's a drink that can help us build relationships! Invest in someone this week over a cup of coffee. You never know what conversation could change a life!
I love that quote. I'll add to by suggesting you double the investment by making that cup of coffee Three Avocados Coffee.  I'm feeling certain you will enjoy your coffee more knowing clean water is being made available to others around the globe.
You can also win a bag of Three Avocados coffee by entering this giveaway:
[Tweet "Because of the work of @nonprofitcoffee, more than 20,000 people have access to clean water. "]
[Tweet "Drinking coffee for a Kingdom cause seems like a pretty simple way to make a lasting difference. "]