October 24, 2014
If I Don't, Who Will?
To think I've served at Willowbrook for almost eight years and only gotten to know Bethany Donham within the last year seems a travesty to me.  I've had the opportunity of serving alongside and getting to know Bethany at our Hampton Cove campus.  I had long loved her mother-in-law (who serves as a mentor in my life) but I didn't know this precious Bethany more than a wave and smile in the hallway.  I love what Bethany shares in today's post.  It is right along the same lines of what God has shown and taught me for so long.  To read more from Bethany Donham you can check her out at her brand-new blog here.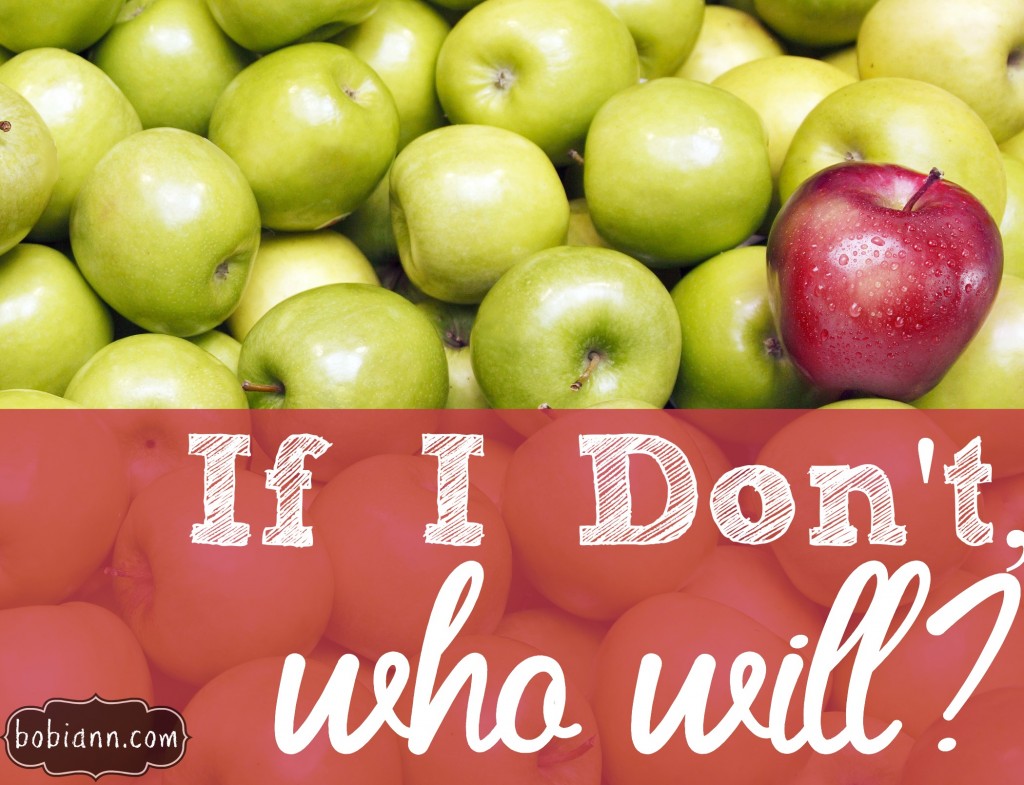 When Bobi Ann asked me to write an entry for her blog, it didn't take me long to discern what God would have me share with you. I've been married to my high school sweetheart for 15 years. I'm a working mom with two gorgeous girls age 12 and 9 and I still live in the same area of the town I grew up in. My life is simple. Busy. Sometimes my life gets in the way of what I really want to accomplish. But most of the time I struggle more with my pride getting in the way of what God wants to accomplish through me.
Several months ago I decided I needed to change the world. I had God-sized dreams and I felt as if God was counting on me alone to feed the hungry, build orphanages and save the lost all in one night. If I didn't do it, who would? So prideful! Unfortunately, I felt He was silent on what He really needed me to do. Isn't that the problem with today's 'me' mentality? We get lost in the idea that God needs us when in truth  He doesn't need us at all. He's God. He's the one who breathed the universe into being. He's the one who knit me together. He's the one who heals the sick, feeds the hungry and shelters the lost. I have absolutely nothing to do with it.
So, I run around trying to fulfill my purpose and looking in vain for good works to feed my own pride, I end up feeling like a Christian fish out of water and gasping for air. It wasn't until God got a hold of me that I finally began breathing freely.
I was looking in my bathroom mirror one morning, getting ready for my busy day when I felt Him say, "Be still."
And in my human arrogance I responded, "How can I be still? Nothing gets accomplished by standing still!"
And because He is a persistent, loving Father He said again, "Be still and know that I am God."
He had my attention. I went to look up the verse He quoted for me. And in an instant my life changed. I was in awe of what He wrote in Psalm 46:10. Did you know that the thousands of wall hangings and bookmarks and coffee mugs have it all wrong? They leave out the most important part! Psalm 46:10 says:
"Be still and know that I am God; I will be exalted among the nations. I will be exalted in the earth."
A wave of relief  washed over me to cleanse my anxious heart. Because to me this verse is saying all He needs me to do is be still long enough to acknowledge who He is–acknowledge His presence, His goodness, His very capable hands. Then, will all the rest come together perfectly. He will be exalted. If all I ever do is humble myself and realize that He's got it, that's enough.
I need to be still to allow the Spirit to move.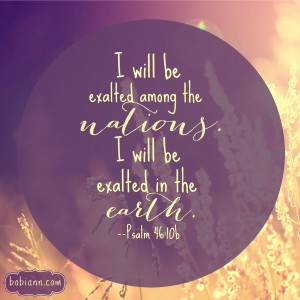 Does this mean I never have to actually do anything? Absolutely not! God calls all of us to serve using the talents He's so graciously given us. That, after all, is what builds His kingdom. What it means for me is if I take the time (before every single crazy-busy day even begins) to acknowledge the greatness of who God is, if I move over and get out of His way, I can be sure that no matter where I am He will change the world.