I Have Nothing To Wear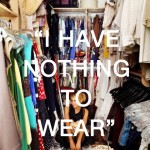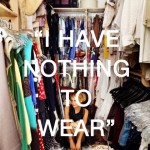 Do you ever stand in your closet disgusted thinking, "I have nothing to wear", "I don't like any of these clothes."? I certainly do. It's one of many 1st World problems we as rich Americans suffer with. But what about we as wealthy believers? I don't mean "wealthy" in terms of monetary wealth, I mean wealthy as an heir of the King. Don't we often live as if we have a closet full of unwanted clothes?
So, here I sit frustrated and defeated in the floor of my dark closest, already adorned with the richest, most beautiful pieces of clothing…looking for something to wear.
That's what Scripture tells me in Isaiah 61 that I've been given a garment of salvation, a robe of righteousness.
Isaiah 61:10 …For he has clothed me with garments of salvation and arrayed me in a robe of his righteousness,
Its dark in the closet and because of my pea-sized, forgetful, limited brain I forget that I'm already dressed and I'm looking H-O-T, Hot! I begin to layer that beautiful dress, that garment of salvation and robe of righteousness with an ugly cardigan of sin, a frumpy sweater of guilt, and a wool cap of shame. I hide in my dark closet afraid to come out. I don't want to look in the mirror, I don't want anyone to see this dreadful ensemble of a life I've put together. So, I stand gripped by doubt in my closet thinking, "Man, I've got nothing to wear."
I look around my closet (as best as I can in the dark) and notice pieces of clothing from my past. They aren't cute or attractive but they are comfortable, they are familiar. They make me look unkempt and homely. They show off bumps that I'd rather hide. Hide! That's it…I need to hide those bumps! So, I do. I slip into grunt and squeeze until tears come to my eyes into a spanx of deceit that will smooth me out, I'll spray on some new perfume that will mask the smell of shame and cake on some makeup to conceal the blemishes of sin.
No one will notice my old, ugly (but ever so comfortable and safe) clothes of my past. I become convinced that I can walk out of that dark closet and everyone will see how pretty I am. But wait, I can barely breathe, I can barely move and the fragrance I smell makes me want to vomit. Something isn't right…this isn't real. I want something pretty, something new, something real.
Colossians 3:9-10 Do not lie to each other, since you have taken off your old self with its practices 10 and have put on the new self, which is being renewed in knowledge in the image of its Creator.
Did that verse say "new self"? As in new clothes? I have something new on? You mean under all of this, the spanx, the makeup, the extra layers of ugly clothing there's something new? I'm not sure, its so dark. I need the light. But won't the light expose me? What if I take all the old stuff off, I get out in the light and I'm on a runway wearing a teeny-weeny yellow polk-a-dot bikini? I can't risk it…I've had too many pieces of chocolate cake and have missed the gym just a few too many times!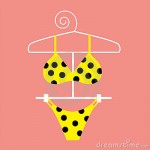 Romans 8:1-2 Therefore there is now no condemnation for those who are in Christ Jesus. 2 For the law of the Spirit of life[a]in Christ Jesus has set you free from the law of sin and of death.
But wait…you mean no yellow polk-a-dot bikini? Clothing that is sufficient to cover that extra piece of fried chicken? And not just with a big moo-moo but a gorgeous garment of salvation, a beautiful robe of righteousness.
1 Peter 2:9 But you are a chosen race, a royal priesthood, a holy nation, a people for God's own possession, so that you may proclaim the excellencies of Him who has called you out of darkness into His marvelous light;
Into marvelous light I'm running, out of darkness, out of shame. Out of the darkness of my closet onto the runway, out for everyone to see the beautiful garment my King has clothed me in. Will you run with me? Will you take off the layers of those ugly clothes and step out into the light in the priceless garment you've been given? You're beautiful. There's nothing to hide.
Do you need to come out of the dark closet into the light? Take some time, watch this video of the song Marvelous Light by Charlie Hall. Use it as a time for God to sing over you. Use the time to take off the frumpy clothes of your past. Confidently wear the garment Christ has adorned for you.
Zephaniah 3:17 He will take great delight in you in his love he will no longer rebuke you, but will rejoice over you with singing."
Your sweet Jesus looks at you with love and is amazed that you are His! Raise your hands, twirl around…you are no longer condemned. You are free!