What I'm Reading–January 2015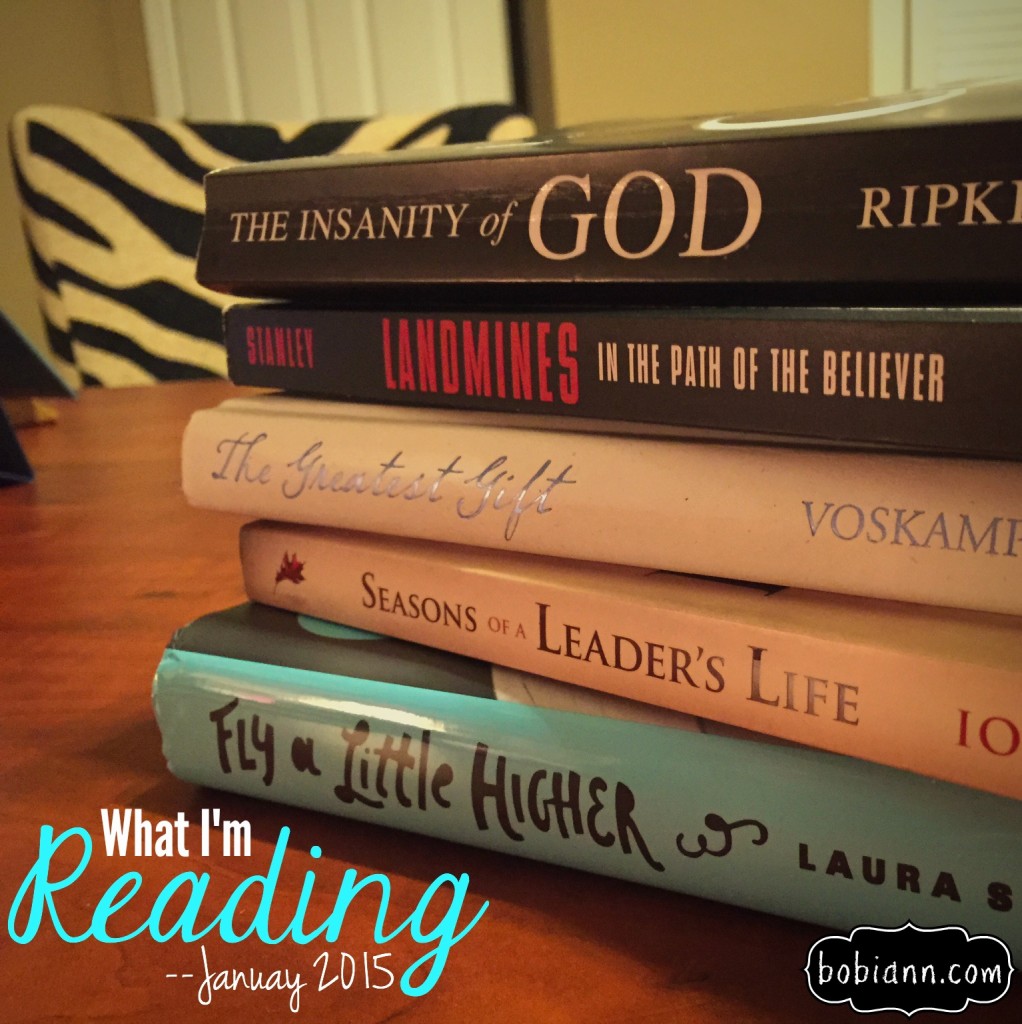 It has been a while since I reviewed any books.  However, you can trust I have still been reading.  I don't read very fast so I don't have a huge number of books to review but here is what I've got.
Our Preschool Minister handed a book out to the ministerial staff back in the spring called The Insanity of God: A True Story of Faith Resurrected
.  It was in my pile to read but I didn't get around to it until early this fall.  The Insanity of God is a story of the persecuted church.  I would almost call it a documentary.  The author, Nik Ripkin, so vividly tells the story of his personal experiences, spiritual journey and research into the persecuted church, I felt as if I were watching it on-screen.  I could picture the interviews with the heroes of our faith whom no one will ever know but whom have faithfully executed the calling of every believer.
The Insanity of God: A True Story of Faith Resurrected
 is not written for the new believer.  It is for someone seasoned in their faith.  The questions raised by the author and in my heart are gut-wrenching and hard.  This book challenges and truly turns the Western view of Christianity on its head.
I hesitate to even mention the next book I cracked because I didn't make it too far. Landmines in the Path of the Believer is written by Charles Stanley. I'm not sure but I'm guessing most Christian leaders have probably read a Charles Stanley book. However, I had not and still haven't.  I just couldn't do it. I honestly tried. I love the premise of the book but couldn't get past the preachy language. Every time I tried to read it my mind would wander somewhere else and I would find myself unsure of what I had just read. I struggled to engage with the book. So after the Introduction and half of the first chapter I had to move on.  For the super spiritual and ultra-intelligent, you would probably eat this book up. However, I discovered it was not for me.
During the Advent season I read Ann Voskamp's daily devotional entitled The Greatest Gift: Unwrapping the Full Love Story of Christmas
. True to Ann Voskamp's style of writing, the book was quite poetic. I thoroughly enjoyed the depth and walk through Scripture leading to the arrival of the Messiah. I would highly recommend this book to prepare for advent.
You have to know me for about five minutes to know I'm passionate about leadership development. So, when Seasons of a Leader's Life: Learning, Leading, and Leaving a Legacy
 by Dr. Jeff Iorg was put in my hand at the Lifeway National Women's Ministry Leadership Forum, I was thrilled. I was even more thrilled when I opened the book and discovered such vital truths for the Christian leader.
Dr. Iorg is president of Golden Gate Baptist Theological Seminary. The book is written with the seminary student in mind. It is much like a book I would have read while in seminary. What I love is how practical and biblically sound this book is. It is easy to read and reminds leaders during any season of truths that are easy to forget in the midst of real-life. I have already recommended this book to some of my friends who have a heart for ministry and are seeking God's guidance and direction for the next step.
She Can't Even Play the Piano!: Insights for Ministry Wives
 has been a fun read. God has stirred in my heart a passion for the minister's wife. The life a minister's wife is often lonely and misunderstood. I still consider myself a rookie with only 12.5 years in. It was insightful and quite validating to read the stories of so many well-known pastor's wives such as Ruth Bell Graham, Kay Warren, Joyce Rogers and Carol Cymbala who have gone before me and faithfully run the race next to their minister-husband.[Tweet "The life a minister's wife is often lonely and misunderstood. I still consider myself a rookie."]
Finally, I'm finishing up a book which is quite different from what I usually read. I probably wouldn't have read it at all had it not just been sent in the mail to me by Thomas Nelson publishing. The vice-president of marketing had written a lengthy letter to go along with the book that intrigued me. Fly a Little Higher: How God Answered a Mom's Small Prayer in a Big Way
 is a memoir of one mom's journey through her son's battle with cancer. Simply put, the book is captivating. I don't want to read it but I can't seem to not. Fly a Little Higher is raw and sad and inspiring. Laura Sobiech, the author and mom who lived this heart-wrenching journey is a gifted writer. At no point have I been bored or felt the need to skim over anything. Each word engages the reader. This is not a book for everyone. It may sound strange, however, to say I feel honored to have read it. I feel as if Sobiech let me peek into something sacred.
[Tweet "I feel as if @LauraSobiech let me peek into something sacred.#flyhigher"]
I guess I've read more than I realized. The next book I plan on reading is by one of my favorite authors and speakers, Leighann McCoy entitled A Woman's Guide to Hearing God's Voice: Finding Direction and Peace Through the Struggles of Life
. Leighann will be at Willowbrook the end of February. Might be a good one to pick up before she comes!