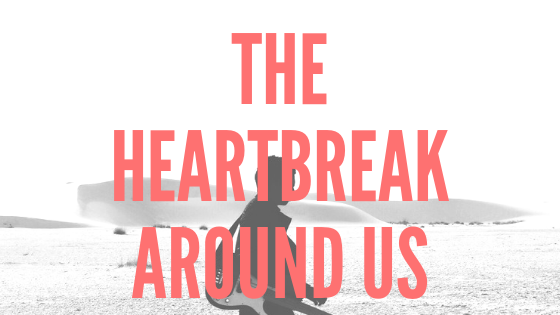 The Heartbreak Around Us
In light of the events that have taken place in the last few weeks and months in our nation, I've reflected on what my response as a Christian leader but mainly a Jesus-follower should look like.
There has been racial conflict, governmental conflict and political conflict to top off the daily reality of tense relationships, difficult circumstances and spiritual failures.  It is too much.  It is overwhelming and terrifying.
When I turn on the news or read another social media post, part of me wants to be afraid because of the happenings in today's world.  My knee jerk reaction is to fear for my family, myself, public servants, but mostly for the future.  There is conflict constantly brewing to the point I foresee war breaking out in our own country.  How's that for inspirational reading?
This is not the world I want my children to grow up in but it is the world we have.
So, sure, my initial response is to be paralyzed with fear of the unknown–concerned for the stability in my little corner of the world.
But, I'm not afraid.  I'm not.
You see, I'm not my own.  I haven't been my own for a long time.  Neither do my children or my husband belong to me.  I have laid it all down.
I am a stranger in this foreign land anxiously awaiting the day when I get to go home and rest at the feet of Jesus.
Even now, I bow at the feet of King Jesus.  My heart cries out as the apostle Paul,
I have been crucified with Christ and I no longer live, but Christ lives in me.–Galatians 2:20
My life is not my own, so who should I fear?  Really, the Spirit that lives inside of me is greater than the hate and violence in this world (1 John 4:4)!
The conflict we are experiencing in our world is awful.  But it isn't new.  Things aren't worse than they have ever been.  Things have been bad since the day Adam and Eve turned away from their Maker.
What we are experiencing is the by-product of a society who has rejected their Maker.  We live among a people who do what is right in their own eyes.  There is nothing absolute and standards are spurned.  Indulgence is king.
Paul wrote to the Philippians:
For, as I have often told you before and now tell you again even with tears, many live as enemies of the cross of Christ. Their destiny is destruction, their god is their stomach, and their glory is in their shame. Their mind is set on earthly things.But our citizenship is in heaven. And we eagerly await a Savior from there, the Lord Jesus Christ, who, by the power that enables him to bring everything under his control, will transform our lowly bodies so that they will be like his glorious body.–Philippians 3: 18-21
My heart breaks for those who are enemies of the cross.  God, have mercy on our broken, stiff-necked world.