A Secret Moment with Sue
Oh my goodness, I love this post!  Welcome to the private conversation of my friend, Sue and God.  It's hard to not have your heart touched as you glimpse into such a cherished moment.  To read more from Sue you can visit her own blog here or a previous guest post here.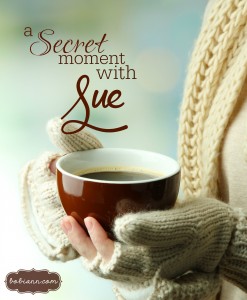 Having just returned from the Declare conference, ticket "in hand" for Allume–bloggers' and authors' faces are floating crystal clear before my mind's eye and personal words of amazing splendor are whirling in my head. How interesting that today the Lord lovingly squeezed into all of that busyness the memory of a very important and special "date" He and I had experienced earlier this year…
May I invite you into that prayer conversation that truly rocked my world not too long ago? Although that day it had to do with marriage, the Lord knew it would be worth remembering over and over and OVER regarding other people and other areas of my communication full world…and then sharing:
"Starved! Totally starved. Lord, I am about to perish. Famished! And do You know why? My dear husband, the one You gave to me, has not been talking to me enough. (Long loud sigh!) I am absolutely starved for words! My word-stomach is growling!"
Whispered the Lord:
"Has he been unkind?
Me:
"No, very kind."
Lord:
"Has he been critical?"
Me:
"No, he has basically been positive. Yeah, he's my cheerleader actually."
I was starting to get the message…but continued on anyway in my whiny prayer voice,
Me:
"Okay, but, can't you see that I am starved, Lord? You made me a word person. Remember, even my grade school teachers mentioned that I always had so much to share. You have helped me rejoice in that love of words, Lord. You have given me confidence. You just have to hear me out. You made me a teacher, a reader, a writer, and an out-loud processor. So, Lord, can't You see? I am starved for words from my man. I just can't go on without more words."
Silence.
Me:
"Lord?"
Silence.
Me again:
"Lord?"
Lord:
"Do you not think I know your needs? Do you not think that I know exactly how I made you? Was I not the One who formed you in your mother's womb? Have I not known every word before you've said it or read it or written it?"
Me:
"Yes, Lord, I know you know…"
Lord:
"And, so dear daughter, let Me point out, you are simply starved for the wrong thing."
Silence.
Lord:
"You are worshiping words, not Me. Let me repeat, you are worshiping words, not Me."
Silence.
Lord:
"Crave Me. Only Me. Let Me feed you. Thirst only for Me. For only I will satisfy. And even if you never hear another word or speak another word or write another word or read another word, I AM ENOUGH. I will fill your need. I know you. After all, I made you."
(Gulp) Stunned silence.
Lord:
"I love you."
(Tears) Awed silence.
Question: What are you craving?  What of your "needs" isn't being met?  Have you cried out to God?  Have you listened to His answer?