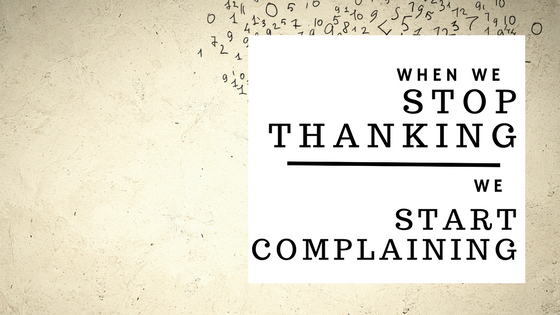 when we stop thanking, we start complaining
Do everything without grumbling or arguing,  so that you may become blameless and pure, "children of God without fault in a warped and crooked generation." Then you will shine among them like stars in the sky.
–Philippians 2:14-15
I read Philippians 2:14 with a friend in college about not grumbling or complaining.  We began discussing it and wondered what really constituted a complaint.  Is claiming to have a headache a complaint?  What about mentioning the temperature in the room is uncomfortably warm or cold?  Looking back it reminds me of the religious leader who asked Jesus "who is my neighbor?" when Jesus told the man to love his neighbor as himself.
As believers, we like to fit God's standards into manageable feats.  Yet, God isn't looking just to our outward behavior but to our heart.
So, when Paul instructs us to go about our days without griping and complaining, he understood the temptation.  Over the course of his life, he suffered false accusations, unwarranted imprisonment ,savage beatings,  shipwrecks and near drownings.  He preached and no one listened.  The churches he led failed.  His friends abandoned him.  Paul understood and had endless reasons to complain.  But Paul also understood that voicing complaints only aggravate a situation.
Voicing complaints is natural when we face adversity and sorrow.  We wish for different circumstances and we say so.  Yet, as believers in God, we aren't called to natural, we are called to live set apart lives that look different.  Those who can control their tongue in the midst of affliction, stand out–not as heroes but as people of peace–children of God shining 'like stars in the sky'.
Seeking to live through hardship without grumbling on your lips, means there has to be an alternative to the complaint in your heart.
1 Thessalonians 5:18 says,
give thanks in all circumstances; for this is God's will for you in Christ Jesus.
It's okay to not like your present sistuation, but it doesn't means you can't find things to be thankful for.  So, you don't like being sick and having to be in the hospital–totally get that.  But what about people who are sick who have no access to healthcare?  Aren't you grateful you have a place to receive treatment?  Do you dislike your job because of the way your co-workers or boss treat you?  A legitimate complaint certainly.  But there are men and women who are struggling to feed their families, have enough money to pay the rent and are searching for a place of employment.  Thank God He has provided you with a means to meet your physical needs and a place where you can shine like star in a 'warped and crooked generation.'
No one said you didn't have reason to complain, not even God.  He understands–really He does.  But as a child of God, you are called to a heart of gratitude that produces peace in order that you might show off the character of God and honor Him.
Challenge: for the next seven days, write down five things each you are thankful for surrounding a difficult circumstance.