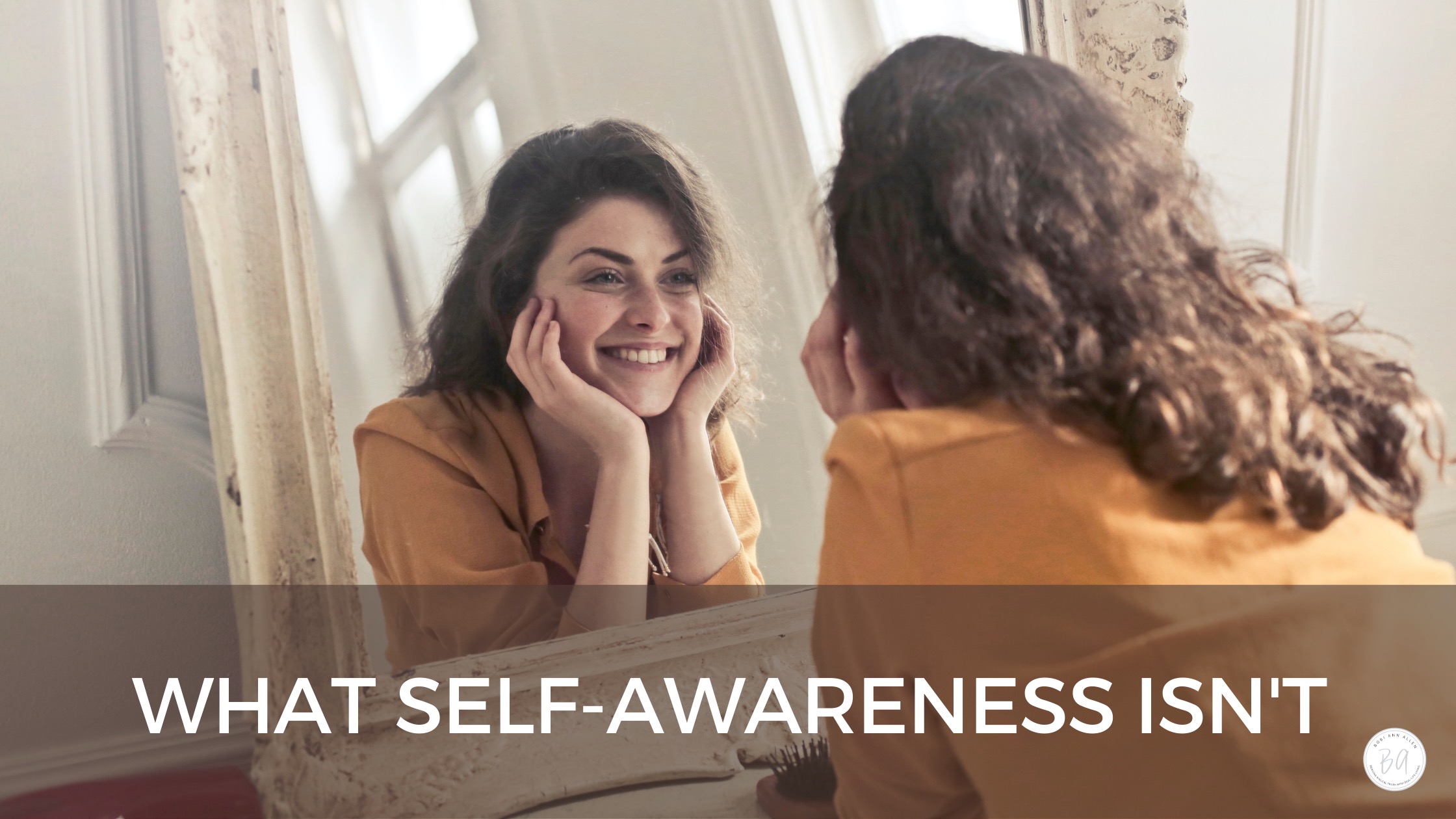 what self-awareness isn't
Make a careful exploration of who you are and the work you have been given, and then sink yourself into that. Don't be impressed with yourself. Don't compare yourself with others. Each of you must take responsibility for doing the creative best you can with your own life.

Galatians 6:4-5 (The Message)
Self-awareness is vitally important when it comes to embracing the assignments God has for your life. Knowing your strengths and your struggles offers you insight into areas where God wants you to invest your energy and areas He wants to shape and sanctify. However, some of what you call self-awareness might actually be unhealthy and damaging to your identity in Christ and how you walk confidently in that identity.
I wanted to share with you a list of qualities compiled by author, Holley Gerth in her book The Powerful Purpose of Introverts to help discern what is self-awareness and what is something else. As you read this list, ask God to reveal to you areas where you are leaning away from a healthy self-awareness and more into something hurtful to yourself and those around you.
Characteristics of Self-Awareness
Confident
Believes everyone is made in the image of God
Seeks to understand self and others
Has a healthy knowledge of strengths and weaknesses
Able to look inward, outward, and upward
Attentive to needs of others and self
Often experiences contentment
Shares self for greater good
Encouragement
Healthy interdependence
"We win together" mindset
Thinks, "We can learn from each other
Differences are opportunities to connect
Sees God as both loving and good
Growing into the best version of themselves
Looks in the mirror when it's helpful
Characteristics of a Self-Critic
Insecure
Believes others are better than self
Others tell them who they should be
Exaggerates weakness, ignores strengths
Afraid to look at self because fo what they might see
Ignores own needs
Often experiences shame
Withholds self out of fear
Condemnation
Unhealthy comparison
"I lose, you win" mindset
Thinks, "You're right, I'm wrong"
Differences are threats
Sees God as harsh judge
Stuck in the same cycles and struggles
Never looks in the mirror
Characteristics of Being Self-Focused
Prideful
Believes self is better than others
Tells others who they should be
Exaggerates strengths, ignores weaknesses
Always looking at self
Ignores needs of others
Often experiences frustration
Leverages self for personal gain
Condescension
Unhealthy competition
"I win, you lose" mindset
Thinks, "I'm right, you're wrong"
Differences are inconveniences
Sees God as personal genie
Thinks nothing about them ever needs to change
Stares at the mirror and sees no one else
I've found when I'm self-critical or self-focused, I have an extremely skewed perspective of God and others as they truly are. A healthy self-awareness starts with an accurate (not some convoluted or confused) image of who God is. When I see God for who He truly is, I learn to see myself and others (strengths and struggles) in light of the gospel–a masterpiece still in process.