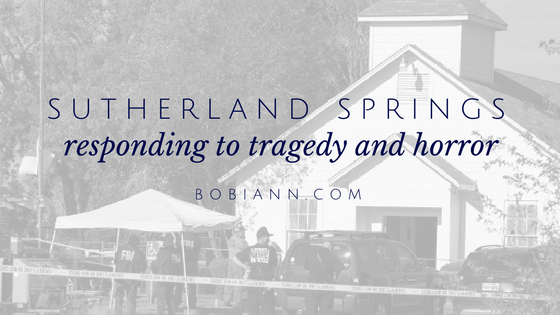 sutherland springs–responding to the tragedy and horror
The kids were lacing their shoes for school, as the news blared of another mass shooting–this time in a church–First Baptist Church, Sutherland Springs, Texas.
Jared looked at me over their heads with a question in his eyes communicating "do we let them watch? or do we shield them?"
We have often chosen to expose our children to the reality of evil in the world so we can discuss world events from a Biblical worldview and prepare them for a world where evil is present and sin is celebrated.
As the news continued to play, I questioned not whether my children should be exposed to reality but whether I should.  I didn't want to watch.  I didn't want to know.
Every time they said "First Baptist Church", I thought "I go to a First Baptist Church. My husband pastors a First Baptist Church. Are we next, Lord?"
Fear and terror gripped my heart.
And for a moment, the terrorist had accomplished his intended goal. Fear was awakened in my heart, doubt was stirred and my faith was shaken. For a moment, I yielded to angst. But that moment did not define me.
And whatever emotions have crept up in light of this recent tragedy, we must refuse to allow this hellish evil to win.
But, how? How do we respond when evil is parading through our streets spreading violence as if it were candy thrown from a passing parade float?
We REFOCUS.
It is tempting to focus on the circumstances in front of and around us, to point fingers or declare defeat.  However,  God's desire is for us to refocus our attention on following Him.  That's what really matters.
We LOVE.
Whether victim or perpetrator, we all share a common need for love and acceptance.
"Above all, maintain an intense love for each other, since love covers a multitude of sins."–1 Peter 4:8
When you're met with someone who is hurting, show love.  When you are hurting, show love.  When you don't understand what's happening around you, show love.  To love in the midst of tragedy, uncertainty and terror demonstrates your faith in a God who is bigger than your fear and your pain.
Faith is more about how we love than how we live and how we live for God is determined by how we love. (1 John 13:35)
God calls us to display our love for Jesus by following HIm–no matter where the journey leads and no matter what happens to us.
We TRUST
Trust makes all the difference.  When we entrust ourselves to our faithful Creator, we can continue to do good even as we face suffering for the sake of Christ.
The first century church endured intense suffering and their hearts must have asked many of the same questions as our's.
When Peter, the trusted disciple of Jesus, faced suffering, this was his encouragement:
"Humble yourselves, therefore, under the mighty hand of God, so that He may exalt you at the proper time, casting all your care on Him because He cares about you."–1 Peter 5:6-7
Responding to tragedy doesn't require you know all the answers, it requires you trust in a faithful, loving God.