Our Big Announcement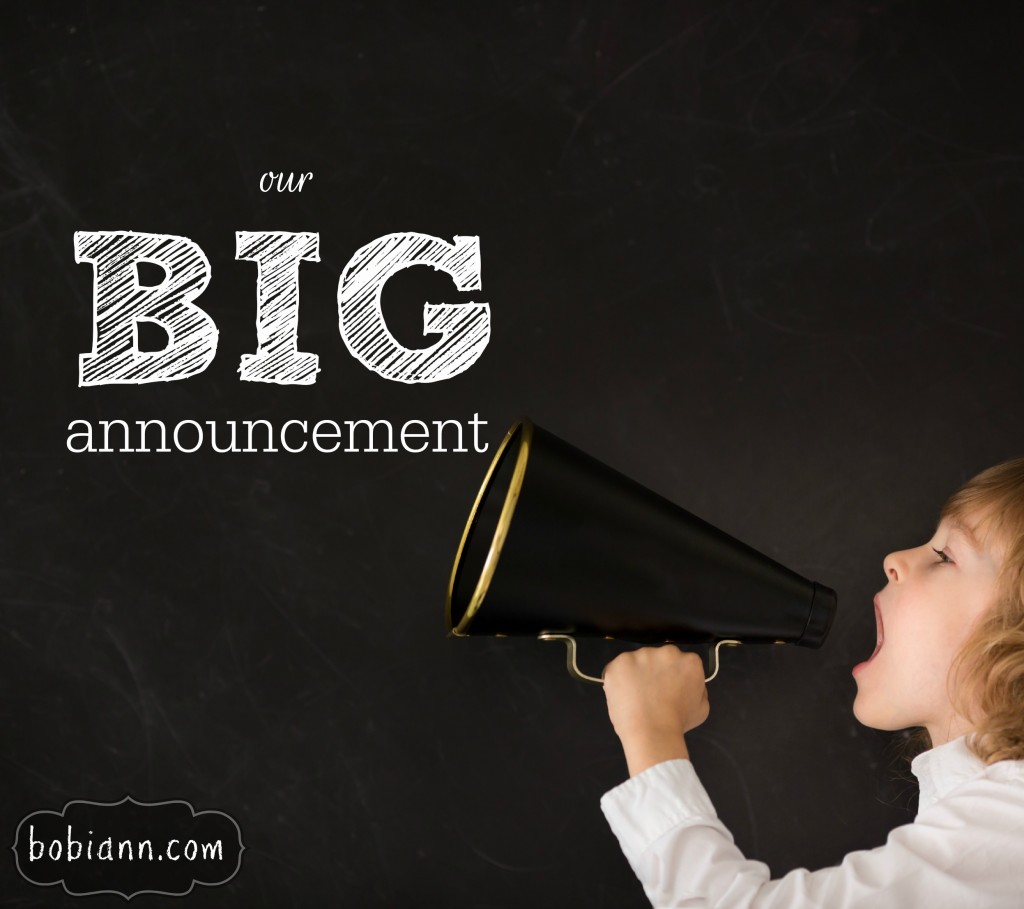 I know what you're thinking.  You see "big announcement" and you think I'm pregnant.  Sorry to burst your bubble but that's not the announcement.
I'll get down to it for those of you that just want the scoop.
We're moving.
It was more than two years ago that God began working in our hearts regarding our next assignment.  To be perfectly honest, I wasn't very open to God's stirring in our hearts.  I didn't want a new assignment.  I love my current assignment.  So, it was with heels in the ground that I began having discussions with Jared and God about what might be ahead.
A Transition Was Happening
A transition was happening in both of our hearts toward the pastorate.  I've said to Jared several times, "Could you have ever imagined all those years ago when we committed our lives to God that He would eventually lead us here?"  I couldn't.  For the longest, the stirring seemed to be in Jared's heart alone.  It was small at first and then it became a burning passion in him–the call on his life to lead a church.  As his wife, I knew I was called to serve alongside him.  And for many months, I went along with the idea.  And then something happened–a burning passion in me as well.  I knew that we were called to lead a church.  It was no longer something I was just following Jared to do.  God had called me as well.
I'm not suggesting I'm called to sit behind the desk of the senior pastor but I am called to be Jared's biggest cheerleader.  I will be his sounding board, his prayer warrior and his help-mate.  I'm pretty much that now but I want you to know, I'm 100% on board.  We are called to the pastorate.
The Calls Started Coming
It wasn't long after the burning passion happened in my heart that we began to receive phone calls from churches.  I won't go into all the details here but we have journeyed with several churches seeking God's direction and leadership.  There have been tears, frustration and an all-out begging for God to make His will clear.
It was on March 23, 2015, that God spoke almost audibly to us.  We had unexplainable peace–a peace that has continued even to the point that I'm typing this post.
God was leading us to First Baptist Church, Round Rock, Texas.
Then on April 19, 2015, First Baptist, Round Rock voted Jared Allen as their next senior pastor.
There was a flood of emotions mixed with physical exhaustion and the Holy Spirit's hand firmly on us.
Why It's Bittersweet
It is always exciting to be square in the middle of God's undeniable movement in your life.  We are confident we are walking through the door God opened for us.  However, our hearts ache for our family in Huntsville, Alabama.  We moved to Huntsville when I was seven months pregnant with our first born.  Willowbrook has become our family.  They have rejoiced with us, hurt when we hurt and helped us raise our children.  Jared and I have grown and matured more than we could have ever dreamed here.  During our time in Huntsville, we have solidified the autonomy of our marriage and family.  We have found our identity as ministers, leaders and people.
So, how do you leave a place with people so dear?
You leave when you get a new assignment.
[Tweet "It is always exciting to be square in the middle of God's undeniable movement in your life. "]
So, what will I do?
A few people have asked, "So, what will you do, Bobi Ann?"  I currently serve on staff as the Women's Minister at Willowbrook.  I've never loved a position like I love this one.  However, over the course of the past couple of years, God has opened up doors for me with speaking and writing that I never would have imagined.  God birthed in me some new passions within women's ministry that I plan on pursuing.  Once I get everyone settled in Round Rock and through the summer, I have some big plans for this blog and future ministry opportunities.  Simply put, I'm trusting God to open the doors He has for me.
I should also mention that I have two children and a husband who is a pastor!!  What do you think I'm going to do?
Stay Tuned
Over the next few months, I will keep you posted on our journey.  I'll share with you our moving adventures and some of what God is doing in our lives.  It is truly an honor to walk alongside you, to grow with you and to see God's hand at work.