Mom Jeans

I really had no idea what I was getting into when Kari Long walked into my life.  Kari is the mom of 7, including teenagers and twin preschoolers!  This woman is the embodiment of super-mom not because she has it all together but because she survives.  We share a similar sense of humor and enjoy poking fun of ourselves together.  Kari loves Jesus and has been an encouragement and support in my life and ministry.  She has taught me about God's redemption and the beauty of chaos.  I'm honored that she is guest-posting today.  I know you'll enjoy hearing from her.  You can check out Kari's regular posts at her blog.
Mom Jeans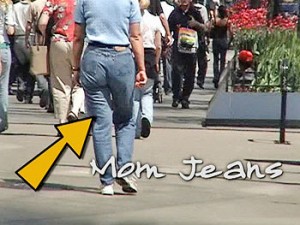 "Get some new pants, Mom?" my daughter asked as she got into the mini-van.
"Yeah, I wanted some comfy jeans for everyday.  And I had a coupon.  They were practically free." (this is logic perfected by a woman married to Mr. Thrifty, but that is a post for another day.)
"So, you got some mom jeans.  They're cute." (I am not sure here if she was being sincere or just sincerely sarcastic)
"Thanks." (I think.)
I am 37 and these hips have given birth to 5 children. I have earned my mom jeans. I still like to look my best, but there comes a point in every woman's life when she realizes that shopping in the junior department is not going to get her there.  (They really are cute jeans.  With little rips and everything. They just cover my whole back side. Even when I bend over.)   Her comment got me thinking about how I look, and how I feel about how I look, and how I want to feel about how I look, and, well, you get the picture.
The truth? I look my age, close-up anyway.  I look tired a lot of the time.  I try to "get up, dress up, and show up" but often that just means making sure I am wearing all the proper undergarments before going to Kroger.  I have not let myself go, so to speak.  But I have let go of the need to look perfect 100% of the time (which is good, since it isn't possible.)  I still exercise, try to eat healthy, and put on makeup most days. But I don't obsess about any of those things.
I wish I looked like I did before my hormones and metabolism started sabotaging my efforts to remain youthful.  But I am comfortable in this 37-year-old skin.  That is, until I start comparing myself with other 30-somethings who still look like they are 22. You know who you are.  I still like you.
The point is, beauty has begun to mean something different to me than it once did.  As I consider what I want others to see in me, what I want to reflect, it is something deeper… Something that transcends and even eclipses outer beauty.  We all know that outer beauty fades.  No matter how hard we work or how much money we spend, gravity and age will catch up with us.  But there is a beauty that only grows lovelier and more radiant as we mature, and that is the beauty I want to strive for.  That is the beauty I want my daughters to see me striving for.  Not a jean size.
Colossians 3:12-16 says "Therefore, as God's chosen people (women), holy and dearly loved, clothe yourselves with compassion, kindness, humility, gentleness and patience.  Bear with each other and forgive one another if any of you has a grievance against someone.  Forgive as the Lord forgave you.  And over all these virtues, put on love, which binds them all together in perfect unity. Let the peace of Christ rule in your hearts, since as members of one body you were called to peace.  And be thankful."
Clothe yourselves… Put it on… It is more important than your makeup.  It is more flattering than your black pants.  It is more lovely than your best dress.  It is the very character of Christ made available to you and to me by the power of the Holy Spirit.  And nothing is more beautiful than Jesus shining through you and through me.   And the great part about this beauty is that the work is done… It's kind of like God said, "I have this great wardrobe already bought and paid for, it is hanging in your closet, and all you have to do is to get dressed."
So what will we choose to put on tomorrow?  I know there have been too many days I have dressed in my cheap filthy rags and tried to impress my Father.  When He looks at me and says, "You are already chosen.  You are already dearly loved.  Now wear what I gave you.  It was bought at a high price."
And it goes great with mom jeans.