It's In The Details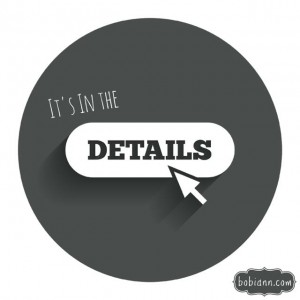 This past weekend, we hosted Leighann McCoy and Ginny Owens at Willowbrook for the women's event we call Ignite.  It just might have been my favorite event to date.  God spoke to my heart so clearly through both the worship and the teaching.  I snuck a text to my husband as I sat in the worship center that read, "I'm so glad I'm here."
It's easy to miss weekends like these.  There are plenty of reason not to go but every time I go, I find myself with the same response.  I'm so glad I'm here.
I wanted to share one verse that has resonated in my head from the weekend.  I had heard and read the verse before but Leighann pointed it out from the New Living Translation.  Psalm 37:23 reads:
The Lord directs the steps of the godly.
He delights in every detail of their lives.
Did you catch that?  God delights in orchestrating every detail of our lives.  Are you seeking God and still feel like you just don't quite know what He wants from you or what you're supposed to do next?  As God's plans begin to unfold, I find myself nervous about the details.  What about this detail or that?  I'm certain this won't work because there isn't enough money or enough time or enough talent.  I easily forget God doesn't forget the details.  He's not just the "big-picture" guy uninterested in how it will all logistically play out.
He has every detail taken care of.
Is that statement a comfort to you?  It certainly is to me.  I can trust God with the details of my life.  I don't have to worry how it will all be taken care of.  He's got it.  God is more than adequately capable to drive the bus of my life.
[Tweet "God is more than adequately capable to drive the bus of my life. "]
Take some time to write down your fears and concerns.  Are they related to the details of your life?  Have you told God you're scared?  Have you presented your perceived "complications" to Him?  Let me encourage you to draw close to Him, have a conversation and then let Him speak to your heart.  God delights in the plan He has for your life and He has worked out every detail..
[Tweet "God delights in the plan He has for your life."]