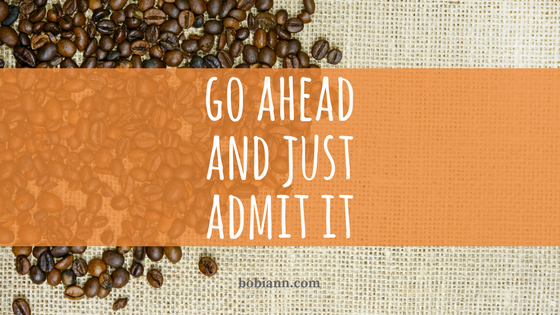 go ahead and just admit it
I'm Type A and embarrassingly independent.  When there is a problem, I'm the determined type that tries to fix it even if I have no idea how.  You should ask my husband.  He gets nervous when he's out of town and I start pulling out the power tools.  (I'm not known for my skills in that area).
However, when it comes to a living a Spirit-filled life,  my DIY, I-got-this personality is more of a hindrance than a help.
Are you like me and you tend toward an independent approach? Do you buckle down and convince yourself if you work harder, you can solve your issues on your own?
Choosing to deal with worries, problems and trials on your own will only prove exhausting.  Can I get an "amen"?!?
You will likely feel more overwhelmed and possibly more helpless.
As a believers, its not only okay to admit you need God, you are invited to confess openly your weaknesses before Him.  It isn't as if He doesn't know.
Paul wrote this in his second letter to the church of Corinth speaking of God,
But he said to me, "My grace is sufficient for you, for my power is made perfect in weakness." Therefore I will boast all the more gladly about my weaknesses, so that Christ's power may rest on me.–2 Corinthians 12:9
In order to vulnerably confess your weakness to God you have to first, admit to yourself and to God you are weak.  
[Tweet "admit to yourself and to God you are weak "]
Here are a few great articles about being real and vulnerable with God.