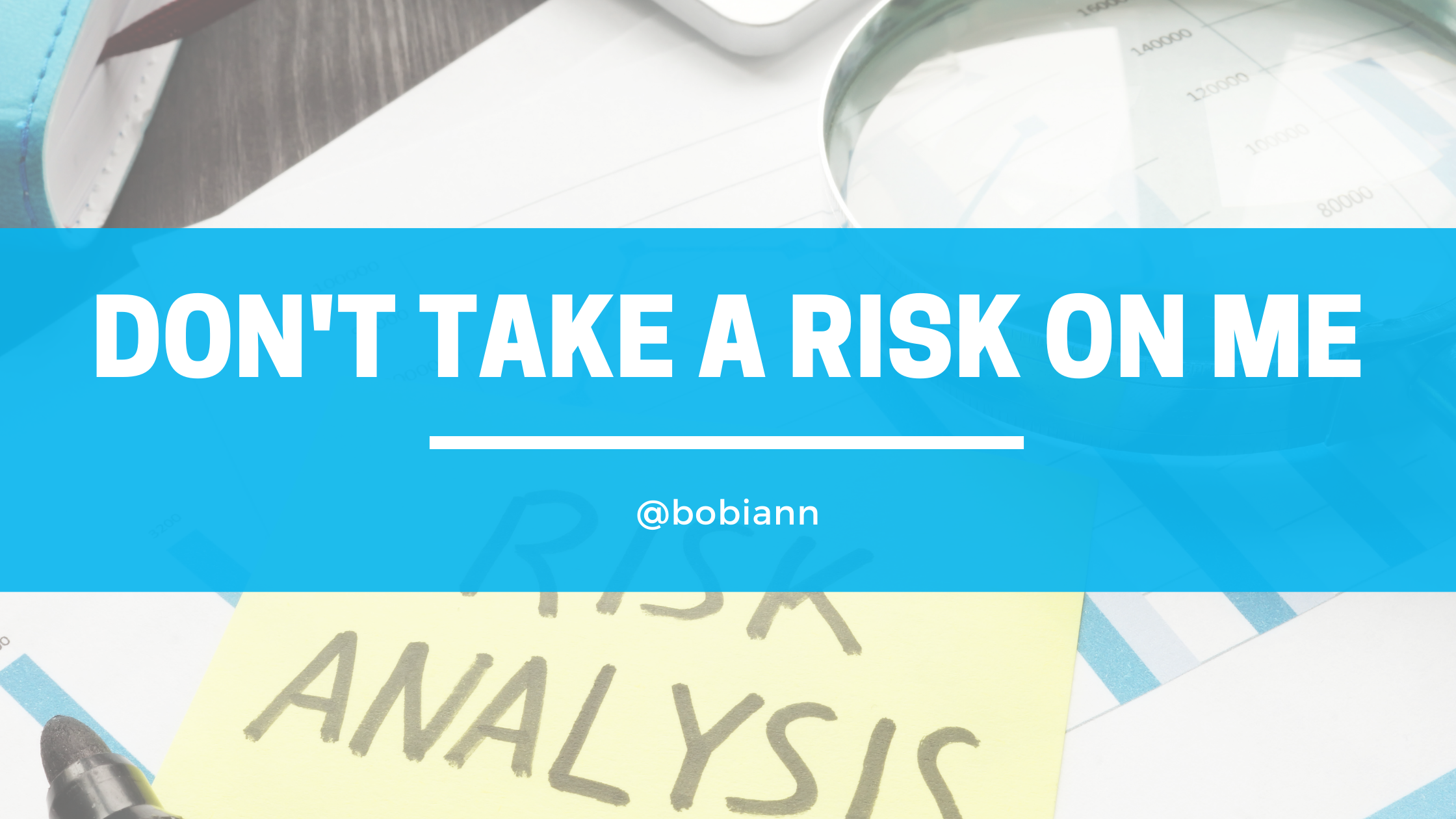 I'm Not a Good Bet…Are You?
Sometimes we look at a challenge before us and we know we simply don't have what it takes to do what God is asking us to do. The challenge is BIG and we…are not. We are scared off from what looks like too big a risk.
If you open the Bible, this scenario is God's method of operation (His MO). Over and over and over again we see God assign men and women in the Bible to a task that is obviously bigger than they are. David & Goliath, anyone?
God seems to delight in a pattern of making it obvious that He deserves credit for success, not us.
In the same way God's pattern is putting something bigger than me in front of me, I tend to have a pattern of panic almost every time it happens because my default response is to look at my resources (read weaknesses) and assess that I don't measure up. (Even as I write this looking from the outside in, it's embarrassing because duh! The whole of the gospel is rooted in my inability to measure up.) But if I determine my obedience and risk-taking based off an analysis of my resources, if I'm wise, I know that I'm not a good bet to take a risk on.
But, I want to zoom in on a passage that addresses this. I've read this passage countless times but I want to ask a question I'm not sure I've thought enough about.
6 For if I want to boast, I wouldn't be a fool, because I would be telling the truth. But I will spare you, so that no one can credit me with something beyond what he sees in me or hears from me, 7 especially because of the extraordinary revelations. Therefore, so that I would not exalt myself, a thorn in the flesh was given to me, a messenger of Satan to torment me so that I would not exalt myself. 8 Concerning this, I pleaded with the Lord three times that it would leave me. 9 But he said to me, "My grace is sufficient for you, for my power is perfected in weakness." (emphasis mine)

Therefore, I will most gladly boast all the more about my weaknesses, so that Christ's power may reside in me. 10 So I take pleasure in weaknesses, insults, hardships, persecutions, and in difficulties, for the sake of Christ. For when I am weak, then I am strong.

2 Corinthians 12:6-10
We don't know the nature of Paul's thorn in the flesh, but Paul readily acknowledges that the function of this weakness is so he would not exalt himself.
But what I don't want to miss is what God told Paul in verse 9–"my power is perfected in weakness."
I think this phrase requires some questioning because how can God's power be less than perfect at any given time? God is perfect therefore His power is perfect. But this verse suggests there is an occasion when God's power is less than perfect. How can this be?
I had to sit on this for a minute because if I ever come across a passage I don't understand or seems to contradict something else in Scripture I have to start with what I know is true in Scripture.
What does God mean when He says to Paul that His power is "perfected" (or other translations say "made perfect") in his weakness?
First, we have to remember that God is a gentleman. He doesn't force Himself on anyone. He invites us into relationship with Him and He invites us to enjoy an abundant life in Him but He doesn't force Himself upon us. I think that is important to remember that here.
Because as God invites us to enjoy an abundant life in Him, an acceptance of that invitation means we have to take a step of faith and let go of what we feel we have control of. We have to take a risk. And this isn't just about salvation. This is about daily obedience and ongoing relationship with God.
When we choose not to accept God's invitation–and we live within our own strength (and weaknesses) alone. We miss out on God's power displayed fully and perfectly through us. God's power is no less perfect but it isn't perfectly on display in us unless we allow Him to use us despite our weakness.
You may be limited by your weakness but God is NOT limited by your weakness.
If you look at your resources or lack there of–you probably aren't a good bet for the BIG assignments God has for you. But, if you take a risk on God and show up in obedience. God is a safe bet even if you and I aren't.
Paul goes on to say he will gladly boast about his weakness. Apart from God at work in my life that sounds crazy. Why would I want to point out where I'm not enough? Well, I wouldn't if I wanted the credit. But, when I want God to receive the credit, I am eager for others to know I am so limited in what I can do BUT look what God did!
So, today, don't take a risk on you (or me). Take a risk on God and invite His power to be perfected through you and all of your weaknesses.