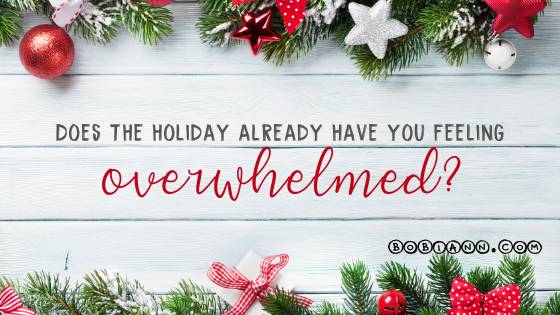 do you feel overwhelmed?
It's almost that time–time to switch from your everyday overwhelmed to your festive, Christmas overwhelmed!
But wait!
An overwhelmed heart is not necessary for the holidays. Yet, for many of us it feels like a package deal.
Holidays=overwhelmed
As we enter into a time of Thanksgiving and Christmas, we have the opportunity to remind ourselves that what we celebrate is the ONE—Immanuael—God with us.
"Peace I leave you. My peace I give to you. I do not give to you as the world gives. Do not let your heart be troubled. Do not be afraid.

–John 14:27
What do we do when we feel overwhelmed?
It's all about choices.
Here are 3 choices you can make to embrace the peace made available to us through the One we are celebrating.
1. Choose the best place–in the presence of Jesus
Get in the presence of Jesus before you feel overwhelmed.
We need God's presence in our lives before our life gets turned upside down and we're fighting to keep our head above water.
However,most Western Christians are comfortable knowing God is there when we need Him but satisfied to ignore His presence when we feel we can handle things on our own.
In Exodus 33, the Israelites have turned away from God and God told Moses that instead of sending His presence with the Israelites to the Promised Land, He would send an angel instead.
Moses replied to God,
"If your presence does not go, don't make us go."

Exodus 33:15
Moses knew what many of us haven't acknowledged—God's presence and His peace are inseparable.
Are you content to walk through your circumstances without the presence of God or are you desperate for Him?

"We need our God; He is to be had for the seeking; and He will not deny Himself to any one of us if we personally seek His face."

Charles Spurgeon
Have you come into the presence of God? Have you asked Him for help? for healing? for mercy and restoration?
If you are overwhelmed—the presence of God is the very best place.
2. Choose the best perspective
wo people can look at the same thing and see something completely different.
It's about perspective.

In truth, I struggle with a right perspective. I have to be extremely disciplined about seeking God for His perspective.
Thankfully, He is not trying to hide it from you.
God wants to reveal His perspective to you as you come into His presence and as you ask Him to flood the eyes of your heart with eyes to see as He sees.
God sees you. And He sees something you don't see.
God loves you. And it isn't because He doesn't know all your junk, all your rebellion and your half-hearted commitments.
God sees you and He sees what He can offer you through His Son.
God wants to change your life.
But many of us have let God have charge over our salvation and then tried to do life on our own.
One of them, when he saw that he was healed, came back to Jesus, shouting, "Praise God!" He fell to the ground at Jesus' feet, thanking him for what He had done.

Luke 17:15-16
Did you trust God for your salvation—for your healing but when you received it, you decided to take it from there—or do you constantly come back to God letting Him continually transform and heal you?
"Are you so foolish? After beginning by means of the Spirit, are you now trying to finish by means of the flesh?"

Galatians 3:3
Are you overwhelmed with your life?
God is at work. He sees you. He longs for you to return to Him again and again.
"Come to me all who are weary and burdened and I will give you rest."

Matthew 11:28
3. Choose the best priorities
As a follower of God, you may have a pretty good idea of what your priorities should be.
Unfortunately, knowing what we should do and choosing to do it are 2 very different things.
Too many times, we have claimed (with good intent) 'When life's not so crazy or when I have more to give, I would love to be close to God, spend more time in God's word, start tithing, be more generous, regularly attend church.
Can I speak some truth in love to you?
We don't have a time problem or a finance problem—we have a priority problem that we are doing our best to manage and it has left us feeling completely and totally overwhelmed.
What do you do when you feel overwhelmed.
ITS ALL ABOUT YOUR CHOICES.
In Joshua 24, Joshua stands before the people of Israel, the chosen people of God. And he says
…choose this day who you're going to serve.

Joshua 24:15
Joshua understood that :
Every single day when we wake up, we make a choice of what will be the first and foremost priority in our lives, and that's what we're gonna serve.
Joshua encouraged the people to make a choice—are you going to continue to live overwhelmed by the circumstances of your life or are you going to claim the peace that has come and is available through Jesus?
Priorities don't change on a whim, they change when we make one decision at a time, one day at a time.
Here's where you can start. I created 3 questions to ask when setting priorities to help you.