Crockpot Breakfast Casserole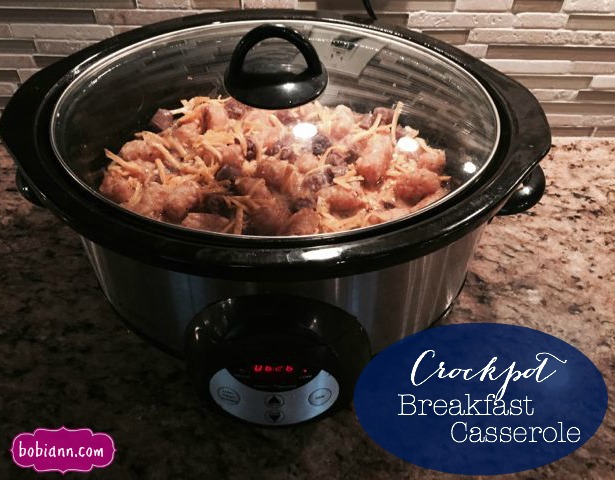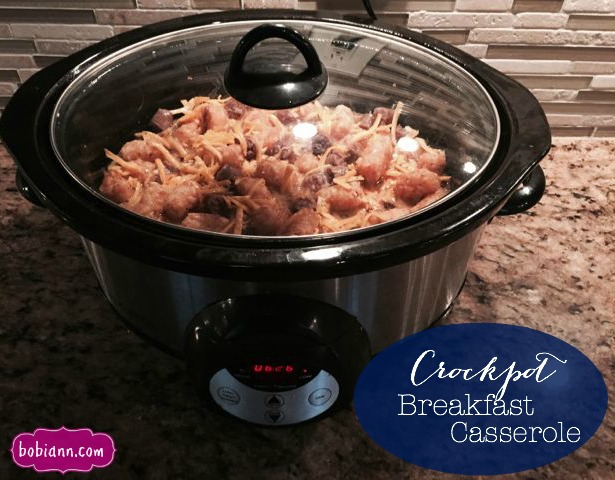 It has been a while since I've given you a recipe.  I chuckle to myself every time I think of me putting any recipe in print because domestic diva I am not.  However, my family does like to eat, therefore, I cook.  I love to find easy quick ways to prepare a meal and the crock pot is always a favorite way to produce a delicious meal without too much effort.
We like to do breakfast for dinner every once in a while so I actually made this in the morning & we enjoyed it for dinner but this could certainly be prepared before going to bed and be ready for a house-full of guests the next morning.
What you'll need:
1 package (30 oz) of tater tots, unthawed (you can use hash browns but I like to mix it up so I used tater tots)
2 packages (9.6 ounces each) fully cooked refrigerated pork sausage breakfast links, sliced into 1/4-inch pieces
1-1/2 cups pre-shredded cheddar cheese
12 eggs
1-1/4 cups milk
2 teaspoons chili powder
2 teaspoons salt
1/2 teaspoon black pepper
8 ounce jar prepared salsa
1. Scatter 1/3 of the tater tots into a 6-quart slow cooker. In order, top with 1/3 of the sliced sausage,  and 1/3 of the cheese. Repeat to make 3 layers, starting with tots and ending with cheese.
2. Whisk eggs in a large mixing bowl. Add milk, chili powder, salt, and pepper, and whisk to blend well. Slowly pour milk mixture evenly over top of potato mixture, allowing it to soak in.
3. Set crockpot temperature to low and cook for 6-7 hours, or until the sausage is golden brown and mixture is set, but still creamy.
4. Scoop up servings of casserole and place on serving plates. Serve with salsa alongside, and pass any remaining salsa. Serves 10-12.
Optional: add onions & bell papers to add more flavor.  I, personally, don't like onions & bell papers in my breakfast casserole so they aren't included in this recipe but try it according to you preferences.
Enjoy!