Crispy Ravioli
I am by no means a Pinterest junkie.  However, I have found Pinterest helpful to stir my imagination and give me new ideas.  I have attempted several Pinterest "projects" and thought I'd give you my review of what I (and my family) thought about my attempt and how it turned out.  Thought this might be something I'll periodically post on a Monday.  I have a long list of 'pins' I've tried.  A lot of them are recipes.  There are a few other fun ventures I've made because of Pinterest that I'll share, as well.  I should add a disclaimer so you're not expecting too much of me.  I'm not a professional chef.  I consider anything that takes more than one pot or pan a lot of work so, you're cooking pain tolerance may be higher than mine.  Just putting that out there.
Today is:
Crispy Ravioli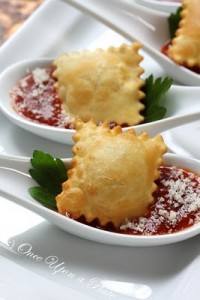 This was a huge hit.  My family raved about Crispy Ravioli and as you'll find with most recipes that I try, I didn't follow the directions precisely.  She suggests fresh ravioli but I used frozen (it's what I had and I didn't read the recipe carefully enough before I went to the store).  So, I boiled them before I fried them which added an extra step.  I don't fry much so, as usual, it was messy and time-consuming but oh, so worth it.
Crispy Ravioli would make a great appetizer but they go fast and are really filling.  I served it as the entrée for my family because well, I don't spend that much time and energy on appetizers for a regular Thursday evening dinner at my house.
Question: Got any suggestions for making frying easier?  Have you ever made something similar that you loved or not so much?  Leave a comment and let me know.
You can always check out my Pinterest boards by clicking here but you might be disappointed if you expect regular new pins.  I can't keep that many balls in the air nor am I trying to.