Cornbread Waffles
Something I've discovered on Pinterest is the many uses my waffle iron has.  I had no idea.  I thought I could only use it for waffles.  Silly me…a waffle iron, only for waffles, what was I thinking?  Apparently, it can be used for much more.
I've used my waffle iron to make cinnamon rolls, biscuits and, now, cornbread.  I didn't go crazy and make cornbread from scratch.  I just used a Jiffy cornbread mix.  I mixed it according to the directions on the box and then cooked it in my waffle iron.  It was so fast and my picky Kie thought he was actually eating waffles!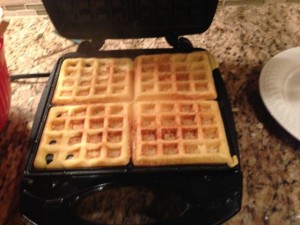 Give it a try.  That waffle iron can serve you so much more now!
Question:  How have you used your waffle iron for more than waffles?  Is there any other appliance you use in a different way that I need to know about?