Are you Bear-ly Thankful?
My Kati Ann loves Build-A-Bear Workshop. Its a pretty new obsession and for her first bear she saved her money and bought it herself.  However, Jared & I got wise and began to take full advantage of this new love for Build-A-Bears. We've used her affection as an incentive to establish some good habits that we were trying to teach her. Regardless of your opinion of our methods…it worked!
When Kati Ann bought her first Build-A-Bear they signed us up to be in their Build-A-Bear "club" (or whatever they call it), basically we got signed up to be on their mailing list.
And then the day came, I went to the mail box and there it is was, the Build-A-Bear Newsletter! Its more like a mini-catalog but regardless Kati Ann was absolutely beside herself. For days she poured over this little catalog. She dreamed of her next Build-A-Bear and which outfit she would dress them in.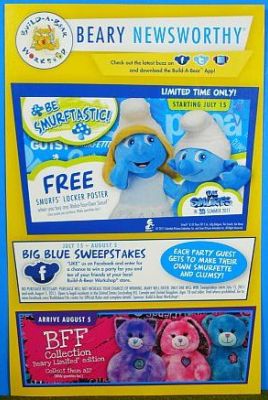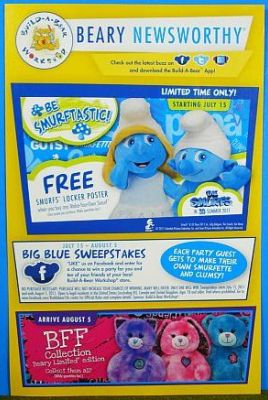 And then she said something that struck me. She said, "Mom, can we go to Build-A-Bear Workshop so I can thank them for sending me this newsletter?" My first thought was, "What?!? You want to thank them for sending you this junky mail? Are you kidding? They were more than happy to send it…they'll be getting more money out of us because of it." I refrained and didn't actually say that to her. Instead, I scooped her up, smiled at her and assured her we could.
And then God used His Word to cut me to the quick, to my very core. How often do I carry on, going about my routine believing I'm entitled to more than I have, all without even a nod of thanksgiving for the overabundance of God's gifts in my life?
When you think of God's gifts (and get past the obvious ones like family and health), do you go straight to your material possessions like your nice house and your car? Don't misunderstand, certainly God is the provider of those "things". But when do you regularly stop and give God thanks for the intangible? What about gratitude for a cloudless sky or the unintelligible chatter of a child? What about recognition for the fragrance of fall or the phone call with a loved one?
Romans 1:21 & 28
For although they knew God, they neither glorified him as God nor gave thanks to him….Furthermore, just as they did not think it worthwhile to retain the knowledge of God, so God gave them over to a depraved mind, so that they do what ought not to be done.
In One Thousand Gifts Devotional by Ann Voskamp and she writes "It is our thanklessness that first stirs the full wrath of God…Wickedness isn't rooted primarily in some ghetto, on some shady backstreet. No as (Mark) Buchanan states, 'All wickedness in the world begins with an act of forgetting.'"
I am as guilty as anyone. I have become jaded and I summon a fresh "new thing" because I've neglected to remember all that I have to grateful for.
Despite the struggle, no matter the pain, regardless the circumstance—God's heart is good and He is benevolent toward His children.  You have more to be thankful for than you give acknowledgement.
What can you thank God for today? Make a list of 3 maybe 5 things every day this week that you can recognize God's provision and favor in your life.
Question: When was the last time you were truly grateful? What sparked that moment?  What reminds you to be thankful?  You can leave a comment below.