A Monogram…of Course
As a girl born and raised in the south, I truly appreciate the value of a monogram.  If you aren't from the south, it might seem hard to understand why southerners enjoy initials on everything.  To be honest, I'm not sure if I understand it, either. However, I do know I like it.  So, I when I came across this adorable idea on Pinterest to put our monogram in a frame, I was in!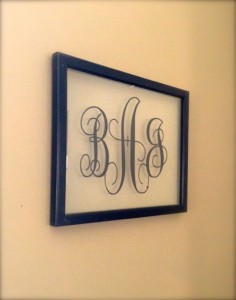 It wasn't too hard.  I actually ordered the vinyl letters, so I didn't make them myself.  It didn't cost much to have someone make them.  I'd tell you an amount if I could remember, but I made this several months ago.  I've forgotten.
I already had this frame sitting in my garage, but you can buy backless frames at Bed, Bath & Beyond and probably Hobby Lobby.
The frame comes with 2 pieces of glass.  Here are the steps I took to make this happen:
1.  I cleaned the glass.  A little vinegar or Windex and the dust and grime from the garage was gone.
2. I measured.  I found the center of the glass and the center of my monogram.
3.  I marked.  I used a dry erase marker (that will easily wipe off of glass) to mark where monogram should go based on my measurements.
4.  I carefully peeled the backing off of the vinyl and put it in place.
5.  I made sure it was just like I wanted.  Then I smoothed down the vinyl onto the glass.
6. I put it in the frame and hung it on the wall.
And done!  I was one happy, little Texan living in Alabama soaking in all my southern roots!
Question:  What creative things have you done with your monogram?  I could easily get out of hand, but I'm dying to know!