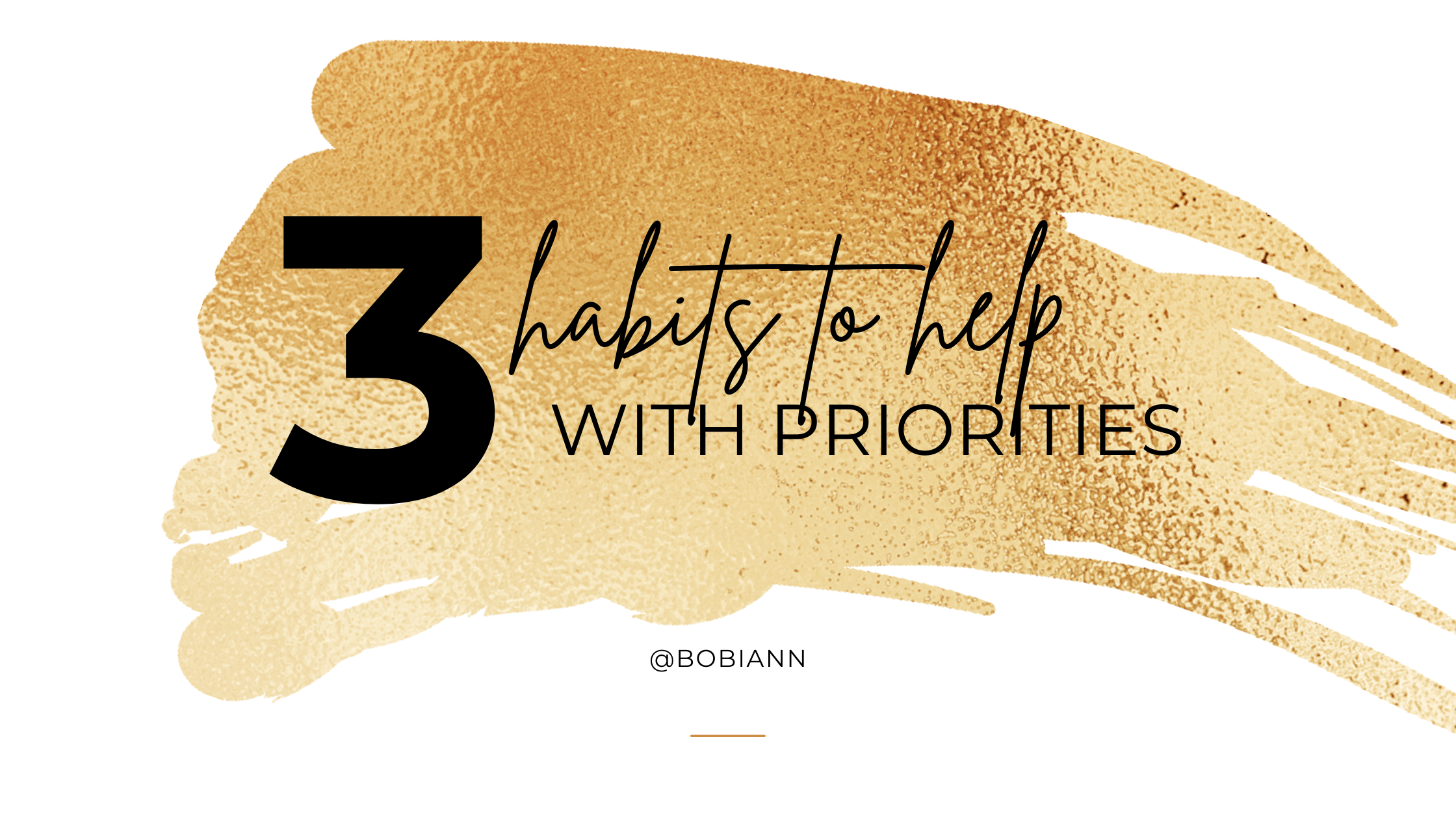 3 habits to help with priorities
I wonder if everyone struggles with priorities.  I mean if someone isn't "doing" much, are priorities still an issue?  Are they able to line everything up in the correct order and it all just stays where it belongs?
That's not really the point of this post–it's more just ponderings I have.
If you are a follower of Jesus who is doing something, then you know it involves demands and vision and keeping all the plates spinning at the same time. But fundamentally an all-in Kingdom player has to have their priorities in order to get it right.
I want to suggest 3 things I've found to be a necessary part of keeping priorities in order:
One: Keep your eye on Jesus.
If you look ANYWHERE besides Jesus, you'll get distracted and your priorities will begin to shift.
Don't take your eyes off Jesus. Make Him first every, single time.  If He's not first, something else is. And if He's not the very top priority, it doesn't really matter what falls after because it won't be in order.
There can only be one number one.
There can only be one number one.
There can only be one number one.
There 👏🏻 can 👏🏻 only 👏🏻 be👏🏻one 👏🏻 number 👏🏻 one!
Two: Ask God for wisdom
"Clarifying your calling in any given season of life will help you discern what God wants you to prioritize."

Jon Bloom
Seasons change and so do demands and priorities. But if you haven't clarified with God and yourself exactly what you are called to at any given season, it will be hard to have wisdom as to where to put your yes and where to put your no.
It will be hard to know the difference in what is a distraction and what is an interruption.  Those aren't the same thing and knowing the difference matters when it comes to living out priorities.
I love the fact that when it comes to wisdom, God provides us with a promise.
If any of you lacks wisdom, you should ask God, who gives generously to all without finding fault, and it will be given to you.—James 1:5
Three: Accept that you can't please everyone.
I like when people are happy with me.  I like praise and approval and there was a time in my life I prioritized the approval of others over the approval of Jesus. It became like a drug I needed more and more of and in the end it just didn't deliver.  In fact, it just left me exhausted.
Don't get me wrong, I still really would like it if I could please God AND please people but the longer I live the more i recognize that I should expect (not be surprised) others to resist and criticize me when I put God above them. That has become a disappointing reality in my adult life.
But if you're really doing something—actively engaged in the Kingdom of God—you're going to get criticized for almost anything you do (right or wrong), so you might please the one who matters most.
For am I now seeking the approval of man, or of God? Or am I trying to please man? If I were still trying to please man, I would not be a servant of Christ.—Galatians 1:10 
To come to terms with the reality that living out God-honoring priorities won't please everyone is actually so freeing.  I'm not talking about intentionally stirring things up or hurting someone's feelings.  I'm talking about Jesus over everything EVEN IF it doesn't please everyone.
Does anybody get it right all the time? I don't think so. Priorities are a continual reevaluation and adjustment as seasons change but there should always, always be one constant–Jesus in the number 1 position.