May 13, 2015
5 Attitudes That Will Help You Find Contentment in the Gap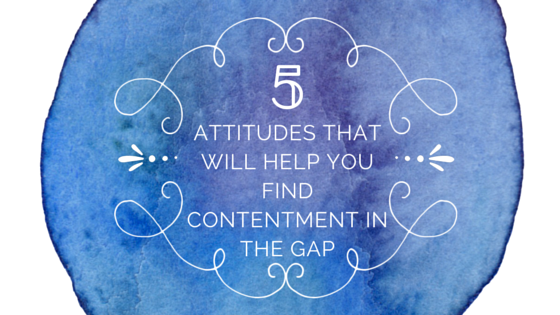 Today the movers show up. If you are following our journey, this is just the next segment to our saga.  Since making our big announcement more than two weeks ago, things have been Crazy (with a capital C)!  I've found myself living in this chasm between two worlds.  It's the place I've found myself many times though its not always so obvious as when you literally pick up one life and transfer it to another.
This chasm is the in-between place–the gap between where you once were and where you going.  You're not there yet but you're on your way.  It's in this gap where you have a choice of how you will live, what you will learn and how you will make the most of the journey.  The gap isn't usually the stable place.  Though the gap is a place where we can find contentment if we take these five attitudes.
1. Be Thankful Through The Journey
Are you a glass half-full or glass half-empty kinda person?  I naturally don't see the glass as half empty or half full.  I more see the glass as needing to be cleaned or improved with a totally different glass!  However, I've made an intentional choice to daily take time to address areas of gratitude.  In my time with the Lord, I write down five things every day that I'm thankful for during that day.  I am careful to think creatively and to notice little things in the midst of my chaos that I'm thankful for.  It might be as simple as air-conditioning but when you're moving and its May that's pretty legitimate!
2. Embrace the Mess
I don't like mess.  I like neat and tidy.  I like the floors swept, the clothes folded and the kids in bed on time.  I want it all to look like my imagined picture of perfect.  Just because I like neat and tidy doesn't mean it isn't messy.  If you do life with people, its going to get messy.  People are messy, kids are messy, families are messy and the in-between is certainly messy.
Do you know it's in the messy, God shows His character?  He reveals my need for Him when things are outside of my control. If I get too worked up over the mess, I miss the message.  Don't get so bogged down in how you think it should be that you miss out on the beautiful story God is writing in your life.
3. Label Your Emotions
Let's be honest—you feel something about your present circumstance. Often, our negative behaviors during a time of transition comes from a lack of dealing with our emotions. If you're afraid, call it what it is—fear. If you are frustrated with what you are walking through—name it. Then, take it to God. If you don't label your feelings, it is hard to surrender them to God.
4. Cherish the Moments
During our time of transition–slap-dab in the middle of no-man's land, we have had some of the most precious moments with those closest to us.  We are truly making memories.  Years from now, we will look back on this season with pleasant memories or traumatic memories depending on the choices we make right now.
This gap has served as a catalyst for meaningful conversations with our children, some of our closest friends and even acquaintances we might not have had.  These are moments to be cherished.
5. Document the Wonders of God
The ground feels shaky in the gap.  You're not sure where it all fits or how all the pieces will fall.  It is in these in-between times when the evidence of God's hand is most clear.  God is your provider physically, emotionally and spiritually.  He goes over and beyond meeting the needs of those who lean into Him for strength.  You want to be content in the gap?  Don't miss what God is up to.  He is at work.  He is paving the way.
I love the way God says it through the prophet, Isaiah in Isaiah 43:19:
See, I am doing a new thing!
Now it springs up; do you not perceive it?
I am making a way in the wilderness
and streams in the wasteland.
Be confident that God is doing His thing.  He is working out the details even if you don't understand or see it.  But when you do see it–write it down!  You don't want to forget all that God did to bring you to the new place.  You're not there yet but find contentment knowing God is working in you and  for you.
Where do you find yourself in the gap today?  Share where you are and how you're dealing!